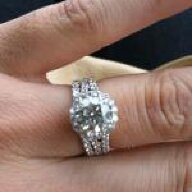 Joined

Apr 29, 2011
Messages

19
I found this site a couple months ago, and the information here is so wonderful. Thanks to everyone who posts frequently and in turn helps those of us that are looking for information and are able to learn so much from those posts! Show me the bling is probably my favorite forum here, because of all the pretty ring pics!

So, I wanted to share my reset once I got it. Here's some background - My old set was a channel set band with a high 6 prong setting. It showed off my diamond beautifully, and I really loved the setting, not to mention it's what my hubby saved up for and chose and proposed to me with, and I wore it every day. But, when my son was born last year, the way my ring was set, I scratched him a few times, and even broke skin on his face once (deep enough to bleed
) and another time scratched his face but was a surface scratch... but still a scratch. I started getting extremely paranoid wearing my ring whenever I was holding him. I was always so conscious of my ring and possibly poking his eyes, that it started to become somewhat of a hassle. I began to look into possibly resetting my ring into a bezel setting, but it just wasn't "me". I looked at a bunch of pictures and the halos really called out to me, but didn't want too delicate of a band with my 6.75 ring size. When I saw the split shank halo (Diane's Tiara DTC101 at
www.sareenjewelery.com
) I fell in love with it. I happened to be in LA, and I made an appointment with Adam at Sareen Jewelry and went over that day to try the setting on. He was extremely helpful and listened to all the things I wanted with the ring. I tried on several different kinds of settings, but I fell in love with the one I had already seen but modified it to hold a little bit bigger diamonds so that all you would see were diamonds with little metal. So... on to some pics!
Here's an old pic of the side profile of my old setting (1.5 carat, G, SI2, ex/ex/ex):
an attempted ring photoshoot pic a while back
Here's my reset - split shank halo with wedding band (cell phone pics for now)
The ring was beautifully crafted, and you can hardly see any metal. The setting is a shared prong (?) setting, so all you see are diamonds. The ring is exactly what I envisioned and I was so excited when I got it!! I couldn't stop looking at it all day... BUT... I was inspecting the ring in the bathroom lighting and I dropped the ring on the tile. I heard a "thwap" as it fell, and I chipped one of the melee on the halo. Had the ring for less than 12 hours, and I happened to drop it RIGHT on girdle of one of the halo diamonds. Seriously, what are the chances?!? I guess pretty good with my butterfingers.
Argh! I was soo bummed, but I'm just glad I didn't chip my actual center stone. I talked to Adam, and he said no problem in fixing it, so it's back in his hands now and should be ready by tomorrow. Their service is AWESOME, and I loved working with them. Highly recommend them! And the ring they made for me is AMAZING and I LOVE IT! So, once I get it back, will post additional pics. For now, cell phone pics for now
Wanted to share!