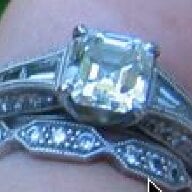 Joined

Jul 27, 2005
Messages

11,534
*** no flaming! purty please! ***
I have a vague memory growing up ...mid-80s/Preppy Handbook Era maybe ... of a period in time that Cabochon cuts were all the rage and that faceted gemstones were, um, less fashionable .. maybe even considered OverTheTop.
Now, I was in a tiny private school in the South - so I can''t claim my finger was on the pulse!!

I was just curious how accurate this vague vague memory was -- and how accurate that trend/perception was in the world outside my teensy snobby bubble AT THAT TIME.
I think it really colored (ha) my perceptions about faceted gemstones for many, many, many years -- probably until recently. And I''ll admit - I probably STILL favor the placid, clean, gumdrop beauty of CABS ... seemingly coming BACK in style, with Tiff''s Sugarloaf line etc.
Other recollections? Reality check?