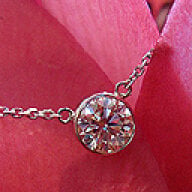 Joined

Oct 30, 2002
Messages

31,003
I was looking at 2 diamonds this afternoon, one was 'A Cut Above' H&A and one was an AGS 000 Ideal. When I ran their pavilion, culet, depth, table, and crown information through the HCA--I got what I perceived to be interesting results.
The H&A scored a 2.0 on the HCA. The AGS 000 Ideal scored a 0.6. This surprised me as I thought the H&A 'A Cut Above' were supposed to be better quality than Ideal (though better is relative I guess). Why would there be such a large difference between the two diamonds. Is AGS 000 Ideal as a rule better indeed than an H&A cut?
Also to throw another piece of info into the mix, I ran a
Blue Nile
Signature Ideal diamond through the HCA as well, and it got a 2.4. I thought
BN
SI's were supposed to be the cream of the crop for Ideal--they are all AGS 000. So this brings up the other question, HCA scoring between AGS 000 Ideals, should there be such a spread? From a 0.6 to a 2.4 and they both score AGS 000 and 'Signature Ideal'?
If anyone has info that can help, I appreciate it, as now I am a little confused.
Thanks!
Mara