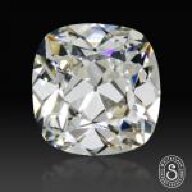 Joined

Jan 12, 2011
Messages

83

MY E-RING!!! And in the meantime as I was waiting my hand forged 14k pink gold stacker (1.3mm full round) band from Etsy arrived (
http://www.etsy.com/shop/RainaLeeStudios?ref=seller_info
). So here are pictures of it too!
I'm in LOVE with this little ring! It is soooo petite and just lovely and so sparkly pink too! She did a great job making it and I highly recommend her. I received the ring very quick too! I'd love to have one done in platinum as my wedding band, maybe a little thicker, I think (not sure she works with plat). But I like how it just tucks under my ring!
Here is the link to the story and pictures of what it looked like before I sent it back to be fixed
https://www.pricescope.com/communit...t-got-my-ring-but-has-to-be-sent-back.160443/
From a distance (my normal perspective) the prongs look fairly dainty (no Leon Mege that's for sure) but they are no longer all i see. In the close up pictures they still look heavy, and honestly they still are not what I had envisioned. BUT having said that, like other PS'ers mentioned; not every jeweler is capable of making these super dainty prongs.
I think they did a good job with the talons and setting the diamond, I know they were so worried about strength and didn't want to go too thin on the prongs.
They also straightened out the prongs from where they start at the shank - honestly I think that they re-made the whole head when I look at it. There used to be a bit of a gap between the diamond and the prongs as they came up from the donut, but now it all looks so flush like the prongs are gripping the diamond.
They also elongated the prongs quiet a bit so they follow the shape of the cushion nicely.
Over all I am pretty happy, a little part of my thinks that I'll probably be having the ring re-set in 5 years anyway!


Maybe a Leon halo creation!! I'll start dreaming now!!
Now here are a million pictures!!! Enjoy!!