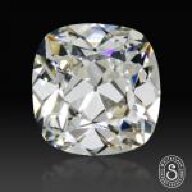 Joined

Jan 12, 2011
Messages

83
So my fiancé got the call on the weekend that my e-ring was ready to be picked up (2.61 J SI1 Antique Cushion). I was in the car so I heard the convo – I was so excited I started freaking out asking if we could immediately go there and get it. Of course he said no and wanted to keep me in suspense. The next day I had to go out with my girlfriends to try on bridesmaid dresses for my friends up coming wedding and my fiancé promised he'd go get my ring. So a few hours later I come home and I'm dying to see my ring!! He pretends he didn't pick it up yet. I actually stated to cry because I was sooo sad (I'm such a baby lol). Then he pulls this little hot pink satchel from his pocket and says "well MAYBE it could be in here? Do you think it could fit in here?"
I ran over and opened it and saw my BABY!!!! Which was actually disappointing because I was immediately not happy with my ring.
My uncle is a jeweler and was going to be making my ring for me, but he specializes in more contemporary jewelry and sculptures so when I said what I wanted he thought it best to hire a man he works with who is suppose to be a master and do exquisite work. Which I was fine with as my uncle will do the other rings that I will stack with it, and I thought it best to leave it to who he said was a pro.
Here's what I do like and would like some advise on a few things too PLEASE!
1) The prongs are not all the same, some are spaced slightly further than others and one is crooked.
2) I think that the prongs should be set more to the 'corner' of the diamond, I feel they are too much on the top and bottom
3) The prongs are not 'talons' like we has discussed, they do not come to a point and I feel they are too bulky. I look at my diamond and all I see are prongs.
4) It was to be set east/west and I think it might be north/south, but its hard to tell because the diamond is 8.19x8.39. And the more I look at it the more I'm not 100% sure.
5) I want to see if they can make the band a bit thinner, I wanted 1.5-1.8 (currently 2mm) and make it more round. I feel that it looks a bit square (or flat) when view from the top.
6) I feel like the prongs from where they start at the donut are too wide and thick. But I would like to see what you guys think. Maybe they are fine, and make the diamond safer?
7) One of the prongs comes straight up from the donut, while the others have a slight curve in them. I think that when he tried to have the diamond sit lower he had to bend the prongs a bit maybe?
So it sucks because I have missed my diamond so much and now I have to send it back
Now a million pictures!