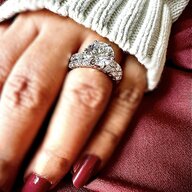 Joined

Jun 21, 2014
Messages

35
How many pointers are the stones in the pic?
I am slowly trying to make my collection of classic pieces. My next project is a dbty and I'm mighty confused. I want something simple with a thin chain which will make the diamonds float around my neck. At the moment I am unable to decide how much of bling is enough and have graded my options in the increasing order of bling (as I perceive). As usual we turn to pricescope when in doubt. I have seen the dbty threads and haven't found anything above 20 pointers.
My options for a 16" YG chain (plus 2" extender)
1.
ACA
from
WF
with 9 diamonds 15 pointers each
2.
ACA
3 station with 1ctw
3. GIA 3x, 5 station with 25 pointers each.
which option would you pick for the perfect bling?
Thank you for your help!!!