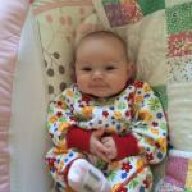 Joined

Jun 23, 2011
Messages

1,442
So I went to see the stones that I mentioned the other day and bought a few. I set out with the intention of buying one or two, ended up with um, 10! Granted some are small and all of them were inexpensive. I'm not sure if they are real until I can find time to take them to a GG, but they are beautiful and all of them have a comforting amount of inclusions (except the larger blue aqua that my daughter loved, so I had to buy). The orange-yellow spess is a bit of a train wreck inclusion wise, but the color was so pretty that I just had to buy it anyhow. I've never actually seen a pad in person and I'm in LOVE with that peachy pink color.
Okay enough rambling! One is in full sun, the other is in the shade outside. I have loads of pics of them up close, upside down, indoors, outdoors...yeah. I'll spare you though, unless you want to see a specific one. I'd love to hear any feedback too, of course!
Top left pear - Santa Maria Aqua
Top middle pear - Padparadscha Sapphire
Top right step cut pair - Rubellite Tourmalines
Middle left round - Rubellite Tourmaline (a bit dark, but I like it...looks to need a little bottom trim!)
Middle middle pear - Aqua (Brazil)
Middle right step cut Aqua (Brazil)
Bottom left cushion cut Spessarite (it's close to Fanta, but not quite IMO)
Bottom middle oval cut "cherry" Tourmaline
and last but not least...
Bottom right cushion cut Rubellite Tourmaline (I think this one has DanielM U prong written allll over it!)