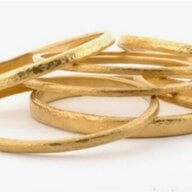 Joined

Jan 26, 2003
Messages

22,107
My Newfoundland, Griffin, is having a hard time. He is not ill. He had this same problem in December of last year, but a bit later in the month and running through most of January. Having seen the symptoms before, I diagnosed the problem almost immediately, but that didn't help me with a solution.
He is an intact male and there is a bitch in heat nearby. Last year I didn't know where the girl was. This year when he ran away one of the first times, he led me right to her house! Apparently he visits there (shame on me that he manages to escape that often) even when no one is in heat. Because a very nice Asian man who lives in the house Griffin went to said that he has four dogs and that one of them is very aggressive, but that
my
dog is a "good dog"!!! (He said this while Griffin was rummaging around in his yard and three of us were after him with a leash! Some good dog!)
At any rate, Griffin is once again off his feed. Last year he lost 13 pounds, going from 147 down to 134 pounds, in one month because he stopped eating. He spends his time outside howling at the fence for his lady love, which would annoy the neighbors if we allowed him to stay out there. He doesn't know where he wants to be, inside or outside. And at night he jumps up on the couch next to me to be close. (He never gets on the couch.)
He has a need for closeness all the time, but like many Giant Breed dogs, he leans when he wants to cuddle. So he comes up to me and leans against my legs if I am sitting on a couch, and I hug him. Now, at night, he is jumping onto the couch to be closer and then leaning and pawing either my daughter or me, too. He can't get enough affection and touching. He just doesn't know what he wants. I mean he actually doesn't know what he wants. Our vet has said that at his age (six) since he has never mated, he would not know how to do so if given the opportunity. But he knows he wants something very badly.
I have had female dogs that went into heat when I was growing up, but never an intact male until Griffin. I belong to a dog forum where I had the chance to discuss this with dog owners last year, but since the issue is right in my face again I thought I would mention it here this year.
Have any of you had intact males that you did not want to neuter for some reason? Did your males suffer when a female was in heat? How did you handle it?
Deb/
AGBF