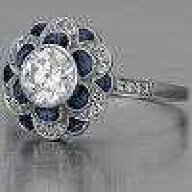 Joined

Jan 31, 2009
Messages

113
after trying for some time to figure out what to do wedding band-wise for my oddly-shaped e-ring, then settling on wearing them on separate hands, i got hung up on looking for a no-stone band, and after looking at a million different styles, began scouring the internet for an antique orange blossom band in a white metal with a milgrain edge. in fact, i found the exact thing on ebay in platinum and lost!
2 days after i lost the ebay auction, i was cleaning up in the house and, while going through a cosmetic bag filled with mostly junk "jewelry" from my teen years (think multi colored beads and candy machine aluminum rings), guess what tumbled out?
a white gold, orange blossom patterned ring with a milgrain. in my size.
i realize my brain must have filed it away at some point and i forgot i had it, so i guessed it must have belonged to my grandma, but the 18k stamp on it almost confirmed that (i never spent that much on myself in my teen years) and a photo sent to mom and a phone call totally confirmed it.
it's definitely worn down, and it needs a cleaning like you can't imagine (hard to tell it's even WG!) but i love that it's what I had in mind (although my brain created that from the memory) and, it's even more special that it was my grandma's. it wasn't her w-band, but i still think it's cool. one of these days i'll probably still get a curved or custom band to wear with my e-ring sometimes, but i'll be getting married with grandma's ring.
anyway, here it is, and i'll definitely post some more pics once it's gotten a cleaning and a rhodium dip.