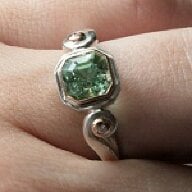 Joined

Apr 16, 2009
Messages

515
So this is probably a silly question to ask here, given the audience. I will (hopefully, if I pass my final tomorrow...should probably stop playing here and study for that) graduate in December with my BS in nursing. I want to get a ring for the occasion. Please help me decide if I should get the official college ring or have a custom ring made.
Pros of the official ring:
anyone that sees it will know it''s a school ring
it has the sentimentality factor
it''s specific to graduates from my school
Cons of the official ring:
the price for a 14k cast ring with a .05 ct teensy diamond chip seems excessive (somewhere around $850)
it might look too much like a high school ring?
I''m not particularly attached to the school I''m graduating from, ha ha
If I do decide to have a gemstone ring made, could I have a nice one put together for around $850? I''d LOVE something really nice like a gemstone ring made by
BGD
, but I''m sure that would be way over budget. I don''t have a specific stone in mind, although I really want a tsavorite at some point. Any gemstone under consideration would need to hold up to daily wear. And I''d want a decent size stone - nothing particular in mind yet, but my engagement ring center stone is a pear shaped with dimensions somewhere around 7x5 mm, and I''d definitely want a stone that is larger than that because it will be a stand alone stone. I also briefly thought about a lotus ring from Sally, but I''m not sure that''s the look I''m going for. Maybe something more along the lines of Julia Kay Taylor or James Meyer (guess I have bezels on the brain).
Any input is greatly appreciated.