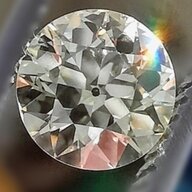 Joined

Jan 20, 2018
Messages

142
The colors they throw off are indeed unreal..just love the cut & color yours is showing!

I have a not so great pic of the 1ct E pendant that I have, it was taken in a restaurant. its set with a plat head & rose gold chain, I wanted a little headlight of white at the base of my neck. Its actually the best photo I have of it at the moment. I just don't take good pics, my apologies!
Thank-You!! Yes the colours in General AVC's throw off are pretty spectacular I think the only real differences are Ratios & in the lower colours you get more of a Pastel Hue rather than a Crisp White Rainbow effect that you see in colourless/white stones, Like your Beauty!
Your Stone looks absolutely Stunning it has great Presence too, I can only imagine the Fire displayed especially in an E Colour Stone!

They truly are Antique Treasures of the Future!
Again Thank-You for sharing your Pic I love seeing other similar sized Stones, They all have their own personalities but each have a Beauty all their own !