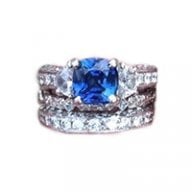 Joined

Oct 11, 2011
Messages

5,529
So since I talk about it almost incessently, the regular folks around here are probably aware I have only recently (within the past year) gotten my ears pierced. If you're not - yes, I waited until my mid-twenties to poke holes through my flesh. Very bizarre of me, I know! I had been wanting diamond earrings but then other stuff kept coming up that I wanted to buy MORE which kind of meant the saving didn't happen. BUT THEN! I momentarily lost interest in jewelry for several months, and the fun fund gained a bit more money than usual. And then it happened again. So I have two pairs of diamond earrings now! It is VERY EXCITING.
Now I just need to figure out how to spend less than ten minutes per ear while changing earrings. (Look, how the heck am I supposed to detach something I can't see? And then poke something through a hole I can't see the back of? I keep just jabbing the middle of the piercing hole REALLY HARD and hurting myself. Is this normal? Does it get better with practice? ERHMAHGAWD I AM SO HOPELESS.)
First pair!
I bought this pair at the end of July. It's some wonky little old cut guys in a SUPER eighties looking setting. I call them my power earrings because they look like something you would wear with an eighties power suit. I really should have saved the seller's pictures because hers were much better than mine. I need some ear pics. They look good on my ears. I swear to you they look WAY better in person than in these pictures.
1.2 cttw, 14kt gold. 6 diamonds per earring, so each diamond is about 10 points each. Or that would make sense anyway, due to math. The diamonds wrap around the bottom so even really incredibly short people can see the bling.