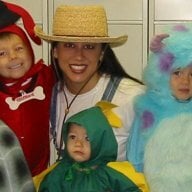 Joined

Mar 11, 2003
Messages

36
Hi again everyone,

I''ve been busy working on wedding plans, so I have been away from the forum for a while, but coming back for more advice now & I''m just as addicted as the day I left.

Anyway, I received my radiant cut diamond E-ring a couple months ago & have had it re-set three times by the jeweler where I bought it from, however, his setter just can''t seem to get it right. The prongs are crooked and the diamond also appears crooked in the setting (sits on an angle). I can''t help but be annoyed by it each time I stare at it, and of course, I can''t stop staring at it. My jeweler tells me that since the dimensions of radiant diamonds are not always exact, you can''t always have the prongs set perfectly exact either. Is this true? This sounds like it might have some merit, but I''m still annoyed w/the setting. It''s a Tiffany style four prong solitaire platinum setting.

I''m considering having it re-set by a different jeweler, but before I spend the extra money, would like to know if it''s just not going to make a difference because of the "imperfect" dimensions on the diamond or if a more skilled setter could make it work. In which case, I also need to know if anyone out there has any recommendations on a good setter somewhere in Michigan; the Metro Detroit area (Troy, Birmingham, Rochester, Sterling Heights, Warren, anyone???).

Any feedback & opinions/advice are so appreciated. Thanks!