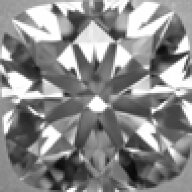 Joined

Jan 28, 2007
Messages

20
Well, I think it''s only fair to share my experiences from the Chicago perspective. After looking everywhere in downtown Chicago and also the suburbs, I still couldn''t find what I was looking for. The B&Ms I looked at were: C.D. Peacock, Tiffany, Jared, James & Sons, Rogers & Holland, New York Jewelers, DimendScassi, Zales, and countless other public and private jewelers. The online stores I looked at were:
Whiteflash
,
BlueNile
, NiceIce, Faycullen, Pricescope,
Goodoldgold
.
When you go to 5 S. Wabash in downtown Chicago, you''d better watch out. Everyone is hawking you, asking you to sit down, trying to push a product. Once girl actually grabbed me like I was a celebrity! Anyway, most of the stones they bring out are average-cut diamonds, but what really bothered me was the misrepresentation. There are some decent jewelers, but even those will still try to force a particular product on you; usually not ideal-cut stones.
Rogers & Holland was decent. But they were still pushing a particular product with a higher than acceptable price.
Tiffany was great. So was Hearts on Fire. Many nice stones, but boy do you pay for it. Additionally, they still didn''t have technology, knowledge, and selection of the stones.
GOG
was neutral. They don''t force anything on you. They don''t bad-mouth anyone. They quite simply have the best diamonds I''ve seen. It was really the technology and selection that sealed the deal for me in the end. Service proved very good, since I needed the stone in Chicago from NY within 12 hours of my purchase. They overnighted it to me very quickly, with full appraisal, extra loupe, H&A viewer, etc.
Here''s my advice to anyone who wants online prices and Tiffany or Heart on Fire quality. Get an airline ticket for $120 and see what
GOG
has. Even if you don''t buy from them, that $120 is worth the day trip. Besides, these guys are just plain fun and their stones are exciting to look at
Mike Murphy - Downtown Chicago