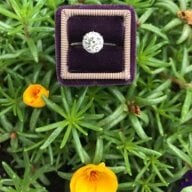 Joined

May 25, 2016
Messages

308
I have an appointment at OWD in the near future. I'm very exited! This will be my first time seeing OECs in person.
I hope I love OECs as much as I think I will.
I imagine I will tell him my budget and he will show me some options.
Suppose I find a stone I really like. What do I need to ask about it?
Now that my trip is just around the corner I want to ask you guys for a checklist of sorts.
-Measurements?
-What kind of photos should accompany it? (I would maybe want to post here for feedback.)
-Should it have a report of some kind? It won't have a GIA report, correct?
-How do I know if I am overpaying? (Lol)
Adam/OWD seems to come highly recommended here so I should say I am not worried about being treated unfairly - I hope that comes across in this post.
To add: I am not in a hurry at all. If there isn't anything for me in the store then the search will continue. But if the stars align and there is something lovely in my price range then I want to make sure I ask the right questions.