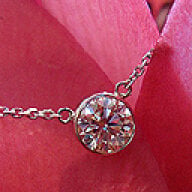 Joined

Oct 30, 2002
Messages

31,003
Wanted to send a big hearty thanks out to Jonathan, Christen, Amy, Jonathan''s Mom...and the rest of the team at

GOG

for helping me out with my Regent pendant. Most of you know the story, and if not, here is the link:
https://www.pricescope.com/community/threads/mara.10980/
Anyway, the story is...I had the local jeweler set the Regent into a pendant and they completely mucked it up. Set it into an 8 prong with a huge heavy bottom basket which didn''t let hardly any light in. Since part of the entire reason we made it a pendant is because the Regent works best when the girdle and pavilion are exposed for light return, this obviously was not working out. The stone was 100% more fiery and beautiful when loose....when set into that monster setting I felt like I was only seeing 2% of the beauty of the stone.
Garry had mentioned that he would fix it for me...but I''d have to get it to AU to him and insure it too. Looked into the shipping prices which were ridiculous for out of country shipments....it would have been expensive and then still not 100% secure. Ay Carumba! So I then petitioned Jonathan at

GOG

for his assistance. Since Garry and Jonathan are the only two guys I know who have hands-on experience with Regents, I wasn''t taking any chances this second time around! Thank goodness

GOG

had some room in their busy schedule...I made the arrangements and shipped off the pendant. Shipping jewelry via mail is pretty stressful. Anyhow, it finally arrived and they went to work on it. I kept in touch with Jonathan''s sister Amy who was fabulous, and Christen took pictures of the new setting and emailed it to me. I immediately flipped out because the pictures looked nothing like what I wanted...and fired back some pictures of pendants they had on their site that were far more refined than what I had seen from them.
Amy called and put my fears to rest when she said that the pictures were of the unfinished basket, that is how it arrives before they begin work on it. OH...okay.

It would be much more refined after the fix. So they finished up the work, emailed me the final pictures today and shipped it today as well. I am going to get it from the UPS holding station today and after about 2.5 weeks will finally have my baby back on my neck where it belongs! This time in a much prettier and more flattering setting.
So thanks

GOG

for the save!

Thanks Garry for the stellar offer even though I could not take you up on it.
Everyone else...enjoy the new (and improved!) pictures. I''ve posted the original pendant...the unfinished

GOG

basket setting...and the much better finished product. Picking it up today...yay!