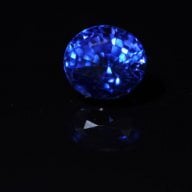 Joined

May 5, 2005
Messages

348
Athenaworth's recent post on her JW sapphire made me post something I've been thinking about for some time: how well should one expect a really nice sapphire to do in very low lighting?
I have a lovely medium blue sapphire that does seem to glow in sunlight. Even inside, in artificial lighting. it does pretty well-- as long as it is getting some light from a light source (light bulb, diffused window sunlight, etc., even if the light source is fairly weak). BUT if you turn it away from the light source it seems to become very dull and bleah and almost inky. I also have a small Mahenge spinel from Tan, where if you turn it away from the light source it is still a glowing fiery pinkish-orange-red.
I know some of it must be that the spinel is lighter toned than the sapphire, but I don't think it is by much, and I see the same thing with a sapphire I own that's almost a sky blue color.
My medium-blue sapphire is native cut -- maybe a precision cut would help, but I don't really think that's the problem either. The darker ring in my pics has a precision cut sapphire, though it's bezel set and darker to begin with, so it's not quite a fair comparison.
Soo... are my expectations just too high if I expect a sapphire to perform like a Mahenge spinel? Or if I had a top-end sapphire would it perform like that? (And if that's so, why -- is it because it's got "sleepy" inclusions? And how can I find these top-end sapphires?)
My pictures are awful, but here are a couple that might sort-of-kind-of demonstrate what I mean. The spinel looks much more vibrant (and more of an orangey-red than the straight pink it looks here) in real life, but you sort of get the idea that it is sparkly even in low light, and a vivid color. The sapphire on top is the precision cut darker one, and goes black in indoor lighting... outdoors it is pretty. The sapphire on bottom is my medium-ish toned one and looks brighter than the pic in sunlight, but you get the idea; in low light it's not entirely black, but that is about it.