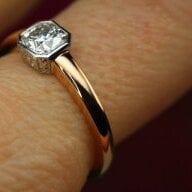 Joined

May 1, 2007
Messages

3,311
I'm a longtime member, but have only lurked on CS for a while now. A search for a tourmaline as a present from DH this xmas led me to this spinel in a store near me. I saw it in person, and it lived up to the online photos. Even though it is small, it packed a punch because it really does glow neon red! However, it had a pretty big window and I found it bothered me.
The setting is so weird. I wonder, did they set it like that for color-enhancement purposes? Would a different setting help with the window? (They were willing to change the setting for me, but ultimately I decided to stay on the tourmaline path for now.) It's too small for a recut, right?
I"m curious what all of you think of this stone? Let me hear your thoughts!
I keep thinking about it, and I wonder if I should put it on my short list.
Online photos from store (washed out hand suggests retouching, but my own iPhone photos to follow...)