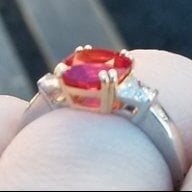 Joined

Nov 3, 2009
Messages

7,380
OK, so here is the piece of good news. Two corundums I once bought at a show proved to be "as sold" (unheated, certified by AGL). One from AJS, the other from a vendor whose name I totally forgot. I feel so bad, he honestly told me he did not know the level of treatment as the stone was uncerted, and charged fair price. I would like to remember who it was. He is not on our list and I never saw him mentioned anywhere, but he was really honest.

So because this ruby had a really nice color and strong fluorescence, I assumed it was probably heated, and some cutters commented on my fluorescence in the sun photo in the sense that such stones are usually heated.

AGL cert came back as unheated. I did not ask for the origin for two reasons, a) I did not expect anything specific, and b) to me, the color means more than the origin, and the stone is very nice. I think it is African.

The corundum is as is, not cheap by any means, but at least it seems with AJS, the stones look similar to the picture, and they are as stated. Nice to know trusted vendors, and thank for the stones.

So, two pears, one is a 1.17 ct, the other, 1.99 ct and they both look plump.

What should I make? Just a ruby ring? A wide bypass ring with diamonds? A pendant?
Last edited: