It's been slow in here lately, so I decided to buy some new moissanites and post them here to show a couple of things that aren't fashionable ovals.
this is a Gigajewe 8mm OEC, hand or manual cut. Supposed to be D colorless, but looks more like a G/H diamond. Definitely has some warmth, but that's okay since it will be set in unplated white gold. I bought this on ebay for like $108 shipped, and it's a good value imo. It's going into my Stuller Solstice ring to replace a badly worn out old Asha 8mm cz. I just wanted something decent and inexpensive for that older ring. I liked this Gigajewe stone well enough to buy a second 8mm OEC that will be set in a rose gold bezel style ring, to finally scratch my rose gold itch. The metal container it was shipped in is rose gold color. The vendor offers a discount if you buy multiple stones, up to 20% for for 4 or more. People on Reddit said they got some nice asscher moissanites from this vendor, btw.
Very pretty, very firey. Crisp facets. No haze or chalkiness. It's more like a transitional cut, I think. The table is large and the crown isn't as tall as genuine old OECs. The polish on it is better than that on the MoCo 6.5mm OEC I posted in a previous thread. And this stone is more lively and and isn't flat. The only negative I've observed in it, unset, is the tint can look a bit "dark", as in tinted not colorless, in plain old fluorescent office lighting.
eta: These were taken on a porch with hanging baskets, and the stone is picking up green from those. It's NOT green at all.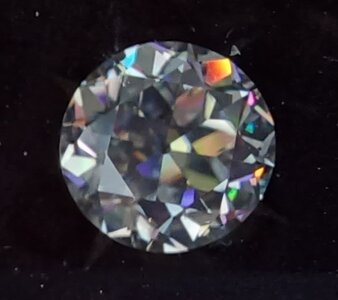 Last edited: