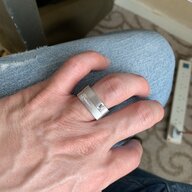 Joined

Sep 11, 2012
Messages

2,355
I picked these up earlier today.
We are very, very lucky.... our parents wanted to gift their children and grand children something: either jewelry or money... being the PSer I am.... I chose jewelry!!!!
My partner, Mark, and I wanted something symbolic and all of us to have the same, if possible....
We traded ideas and ended up with a variation to the inspiration picture:
1) necklace and pendant
2) 2 x adult size and 4 kid size pendant and chains
3) pendants are 2 rings - 18k white gold and 18k rose/ red/ pink gold..
4) 18k WG has engraving- our monogram GEMMSS on one side; the opposite side- LOVE
5) 18k RG has a diamond on one end, and the opposite side a birth stone. In the pictures below, it is a green peridot.
I have black leather cords that could work well with these pendants, too.
Will now pass it to my parents to gift it to us at some point.