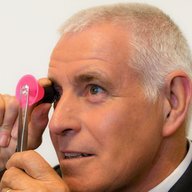 Joined

Aug 15, 2000
Messages

18,054
This group of pictures show a stone with "good" GIA symmetry. The stone actually has excellent symmetry as you can see for yourself. The problem comes about because the table has a 0.65 degree tilt and this causes the pavilion measurements to vary from 40.1 to 41.4 degrees (as was first noted by Sergey).
Actually the pavilion is nearly perfectly symmetrical, but because the table is used by Sarin and Ogi systems as the reference plain - it appears the stone has been dowwn graded by GIA for this reason.
Does anyone use their eyes?
Do they look at diamonds?
We will work on a system to make it possible for you to view GemAdviser images online for dealers who own Sarin equipment. It is still early days for all this stuff - but it is possible for you to then view a virtual diamond before you make any commitment.
We will continue on this website to bring you amazing new developments to make buying diamonds easier.
PS the file was too big - click the little note just below here to seee the file.