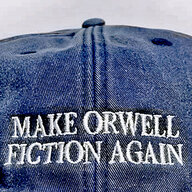 Joined

Apr 30, 2005
Messages

26,993
Chrono|1292956457|2802986 said:

I shall be "tough" and hold out until I get the little thing in my hands tomorrow. It is going to be a challenge to mentally receive a microscopic speck after being used to purchasing 10 mm sized coloured gemstones, not to mention this miniscule speck cost more than most of my other gemstones. Perhaps I am being too negative or naive about this entire thing when I see similar ungraded stones being sold at a fraction of the price, in addition to having friends tell me I am overpaying for my stone by at least one zero, even with a GIA report.
If they are ungraded you don't know whether they really are similar.
That's the problem, and the reason I stick with graded FCDs.
You DO know what they really are.
There was a business reason those others were not graded, so don't think of it as apples to apples when comparing them to yours.
Yes size is a big thing.
If you can't let go of the size thing FCDs are not for you, unless you are fantastically rich.
When it comes to
others
we all know that few people know very much about white diamonds.
Far fewer know anything about FCDs.
I've heard that many jewelers have never even seen one.
For me my FCDs are a private pleasure, though perhaps you will feel comfortable sharing them with your friends.
I have only shared them with my SO - and the PS community.