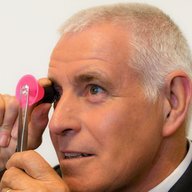 Joined

Aug 15, 2000
Messages

18,055
In reference to my Journal Article
GIA Excellent Cut grades: A case study
there have been a number of related threads that seem to have gotten a bit confusing.
These are those threads:
GIA Diamond Cut Grading: Problems with Diamond Dock
(Leonid and Sergey) This thread is about the same topic as the Journal Article - the development of GIA's. Why do some diamonds look good and some look bad in GIA's Diamond Dock(r). We discuss a Shallow GIA Very good, and 2 GIA Excellent Cut stones: A nice normal Tolkowsky stone and a stone that is Steep Deep (near the GIA boundary.
GIA EX: Let the buyer beware...
(John Quiote) John and Brian the Cutter are concerned about GIA's grading results.
GIA Ex: The Consumers Perspective and the Technologies
(Rhino) did a small survey with painted and non painted stones in his store using Diamond Dock. He likes it, but unfortunately he has still not read my article.
Peter Yantzer - the Director of AGS Laboratories has kindly run the 3D scans for all the diamonds in all these discussions.
THe results of his scans have been presented in a novel way - the light return from as a % broken down into angular directions. 0 degrees would be light from the horizon - and 90 degrees is from directly overhead.
From the bar chart we can see the deeper stone (one first posted by Rhino and not the one in my study) has very good light return in the shallower angles - a whole 1/4 of its brightness and sparkle comes from lights in that area (from high windows for example, when the viewer is looking downwards to the diamond.) but the shallow stone gathers only 2.5% (1/10th as much) from that direction.
55% of the shallow stones light comes from the premium area where the most lighting is in the most common environments - the ceiling.
So when you examine a shallow diamond in Diamond Dock - it does not have as much bright sparkle as a deeper diamond.
a Tolkowsky 'Ideal' does very well across a broad range.
I hope you find this is interesting and comprehensable.
(BTW the other threads have desolved into more 8* and New Line wars discussing painted and branded diamonds and how they will be graded by GIA / AGS etc. The evidence suggests that this is a swings and roundabouts debate and personal preference plays a big role. I do not believe the soulution to this debate is simple - it invloves very complex studies - and does not affect the main stream market - that is why i started a new thread. I would prefer any debate about painting stayed on those other threads.)