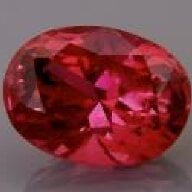 Joined

Aug 14, 2014
Messages

353
Hi everyone,

I feel like I haven't posted on PS in quite a long time! It has been so nice to see the new projects that everyone has been posting lately. Although I have been collecting stones for at least ten years, I have never commissioned a gemstone. I was hoping to ask a few questions to those of you that have gone through the process of commissioning a gem before.

1) Who have you commissioned gems from and do you have a favorite lapidary to commission stones from?

2) How many parameters did you set when you commissioned the gem?

I know that I am a very particular person when it comes to gemstones. I worry about stepping on a lapidary's toes if I say that I am open to almost any shape and cut as long as certain color and clarity criteria are met. For example, like many people on this forum, I really hesitate to buy stones that have a lot of inclusions. However, I know that many lapidaries do not really view inclusions in the same way that people on PS do and do not seem to mind them. I also know how difficult it can be to describe a desired color accurately even if you provide specific photos.

Because of how picky I am, are there any vendors that people here on PS have found to be good at dealing with a picky person?