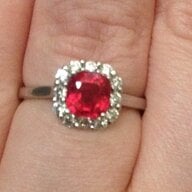 Joined

Mar 30, 2019
Messages

783
I'm sure you've all noticed, but gems and gemstone jewellery prices have been rising a lot lately.
I tend to buy second hand/vintage/antique jewellery and am finding that selection and availability of items are not what they were 3 years ago, with a lot of items I had my eye on being sold by the time I was in the position to purchase, with stock not being replenished with similar quality items.
At auctions, prices are regularly going way over estimates. It's to the extent where the prices for old stock being sold by jewellers and online jewellery vendors are sometimes the same or even lower than what equivalent items are selling for at auctions. Really nice items (irrespective of price) are getting harder to come by.
In response, a lot of jewellers are putting up prices of their old stock. I see item prices suddenly jumping up by 50%.
It's essentially the same issue as the one described by Yavorskyy in his/their article.
Pricing of "New normal" Gemstones, explained​
Pricing of Gemstones 2020-2022 Up until 2020, when the gem shows were running, mines were active, jewelers were hungry and the world was flourishing, I was able to buy Gems at 50-60% lower cost. What happened during the pandemic? First of all, the gemstone business seemed to be frozen for a...
yavorskyy.com
Dramatic rise in prices for fine gemstones as high-end ruby, emerald and sapphire sales soar​
It's hard to criticise gem and jewellery vendors for putting up prices if they are finding that prices for them too are rising to the extent that they can't replenish their stock with the money they sold their old invetory for. At the same time, for a lot of people like myself whose budget is limited, if this trend continues, a lot of things will simply become unaffordable.
So what's the future, I wonder? Will prices eventually correct themselves, or is it on an upword trajectory where only the very affluent can soon afford many gemstones and gemstone jewellery? One antique jewellery dealer was telling me it was getting harder and harder to buy rubies and rings in general, and a lot of people who are now buying his stock are other dealers. For antique jewellers whose stock is by definition not something that can increase production to meet demand, this can't be good either.
Any thoughts?