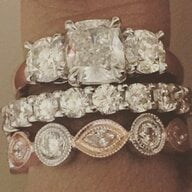 Joined

Jul 12, 2014
Messages

203
Hi PSers!

As my DH and I were working on our (my) 20th anniversary project, we (I) spent a bit more than we (I) should have on my diamonds, plus I made an unscheduled jewelry purchase of a lovely 14k rainbow gemstone bracelet. So, as a compromise, I gave up on getting the Designer wedding band that I really really really really wanted.

But, because I'm persistent, my hours of Internet searching brought me to a band that is so similar to the Designer band that I couldn't pass it up! Of course, the diamond grading on the Replacement band is not as high on the Designer band and it's not an eternity, but when we received it yesterday, it still sparkles like nobody's business. Plus, how could we not be happy when the replacement was only 26% of the cost of the designer ring? I really wanted to stick with all custom or handmade rings in my anniversary upgrade, but for this I had to make an exception! I'm so happy!

Here are a couple of photos for comparison....The first pic is the Designer band (CAD image) and the second pic is the Replacement band:





I really like these styles because it's not the usual marquise-round or marquise-square alternating shapes that I've typically seen on these antique, art deco style bands. The rose gold rondel shapes make all the difference for me!