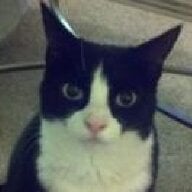 Joined

Aug 8, 2005
Messages

40,225
So while I''ve been desperately trying to get a new setting... apparently one of my coworkers has been eyeing it with interest.
This morning she tells me she got engaged (congrats!) and that her FI proposed with his grandmother''s ring... but the ring is in bad shape, as the shank is broken and the prongs are loose. Her FI thought about having it reset then proposing but her FMIL encouraged him to propose then have it set with her input. And she wants a setting similar to mine... but ''maybe'' with pave (little diamonds sprinkled all over...like a diamond crust") or maybe just ''clean and plain like'' mine... and where did I get mine.
So I told her I knew of a very well priced designer that sells rings similar to what she''s describing... with better quality than mine is and to give me a little time to ask around and get back to her.
So my question is... Vatche? I looked through old thread, and none of them talk about pave quality... Anyone know? I am assuming that their ''general'' quality is good... ie for a platinum x prong like mine or a royal crown as
GOG
carries them.... (her stone is a square cushion from her description).
But pave is a different matter?
Vendor comments welcome as well!