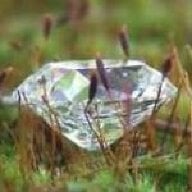 Joined

Jun 29, 2006
Messages

11,071
I have a friend who really wants a rings with princess cut - and has found one that she *loves* at a local grocery/dept store and called me up with her ONLY concern being - what are the hidden risks to buying an uncerted stone. She says she can''t see color, says she couldn''t see any inclusions with the loupe, and isn''t concerned with it being a high light performer - she just wants a "pretty ring" and doesn''t care about all that stuff. And she loves this ring. It is a 1 carat princess with some other little princess stones in an offset bridge under the stone.... and she called to ask me if there was anything to be concerned about with a non-certed stone. I mentioned to her about girdle thickness but mostly I could only reassure her that the most important thing is that SHE LOVES IT. And she does. I''ve linked her here a few times but she really just isn''t concerned with the numbers and stats and this or that - is much more reassured by having a local jeweler who can guarantee their settings and replace the stone. The ring is $3600 and I don''t know the color or clarity but she doesn''t really care because she loves it so..........................
But she still wanted me to find out if there was anything she should be concerned with other than girdle stability.
Also - she wanted to know what she could expect from an appraisal for a SET stone. TIA guys.
Oh, and be easy on her cause she''ll likely read this haha