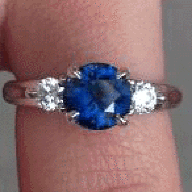 Joined

May 28, 2010
Messages

826
So I tried to convince my friend (whose budget just isn't in it to get what she wants right now, but she wants to be engaged and the ring is important to her) to get a colored stone engagement ring now, and then if she even wants to upgrade later, get herself a diamond for a big anniversary and then used the colored stone as a right hand ring. She loves pink so I thought a pink spinel would be right up her alley. But in showing her websites she came across white zircon. She still plans on eventually changing it out to a diamond. She likes halos so the stone will be reasonably protected from direct impacts... is zircon appropriate? I know it'll have the sparkle, but will it have the strength to be an every day ring for 5 to 10 years? Is there a better, genuine gemstone alternative?

She's seen white sapphire, and it isn't dispersive enough for her. I know her budget for the whole ring will be about $1500 US, with a little bit of wiggle room.

Help, I don't want to lead her astray!