Hello,
After doing my research, I nailed down to a diamond I think is good.
Can you please provide your thoughts?
Also, has anyone got experience with Australian Retailers?
I would like to know that with the AUD, if diamonds are cheaper here in Australia or in America.
DIAMOND SPECIFICATIONS
Depth % 61.1
Table % 56.0
Crown Angle 34.2
Star 52.0
Pavilion Angle 40.7
Crown % 15.0
Lower Girdle % 76.0
Measurements 6.73x6.75x4.12
Culet Pointed
Fluorescence Negligible
Girdle Thin to Medium Faceted
Light Performance Ideal
Polish Ideal
Symmetry Ideal
Category A CUT ABOVE®
Shape Round
Carat 1.138
Color G
Clarity VS1
Cut Ideal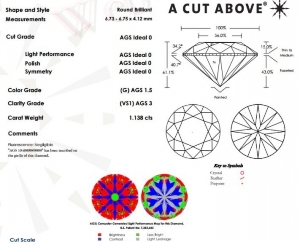 Thanks so much!