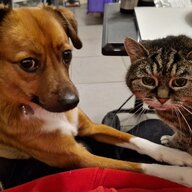 Joined

Jul 7, 2013
Messages

7,028
This is the first piece of jewellery that my mum gave me when I was about 11yo, a band made of diamonds and Sapphire, most likely to be in 14K WG.
I wore it on my LH ring finger for a long time, until it no longer fit and I moved on to other rings.
I just found it inside a trunk well wrapped up in a bag of clothing that I had not opened since I moved to my house in October 2006!
Good job I was meticulous in checking all the pockets before I threw anything out.
I thought I had lost it by throwing it away accidentally like my mum's 6-stone ER.
It fits my pinkies, and I may wear it as a pinky ring, as it has sentimental value, and kind of cute.
I shan't have it resized as it would need to go up quite a few sizes in order to fit my LH ring finger again, and it is too thin on its own (I don't like stackers).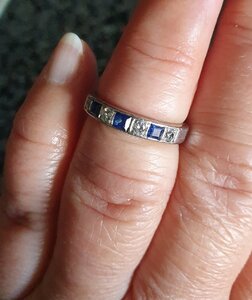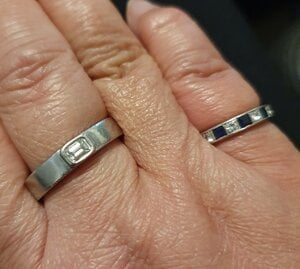 DK