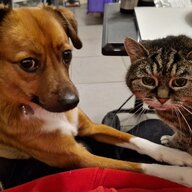 Joined

Jul 7, 2013
Messages

5,161
How do you like yours, in terms of cut, how it is cooked and what to serve with etc.?
I love a thick Ribeye steak; cooked rare; with chips/fries (triple cooked if available); onion rings; fried mushrooms; creamed spinach or stir-fried vegetables in colder months or a lightly dressed green salad in the warmer months; a creamy garlicky blue cheese sauce in a small dish on the side for dunking in the colder months or a squeeze of lemon and English or Dijon mustard in the warmer months.
Being on my own, I seldom cook a roast dinner except for Christmas and Boxing Days. I prefer to have a steak instead, usually get a bigger piece so that I could share it with the pets (the dog will share the chips/fries, the cat does not care about them).
I seldom have steaks when I go out to eat, as I can make a very decent steak dinner at home, and a lot cheaper! Except for a steak tartare, and I like to do the mixing myself so that I can omit ketchup in the mix as I don't like it (too sweet).
How about everyone else?
DK