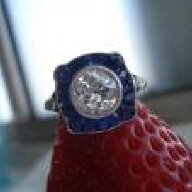 Joined

Feb 25, 2009
Messages

33
So, the FF and I are both opposed to diamonds for various reasons, so the e-ring will definitely be a colored stone. But, after about 2 months of lurking on here I still have very little idea of what I want. I think it will have to be a sapphire b/c I am very hard on all of my things.

Anyhow. . . my question is: how did you decide on the color for your e-ring? Since this is something I plan on wearing everyday I am having a hard time committing to a color. Did you know what color you wanted when you started looking, or was it a "I know it when I see it" type thing? Also, I wear red nail polish about 75% of the time (the rest of the time being neutral) and I''m worried some colors may not go with that. Did you consider things like this when picking the color for your e-ring, or am I being ridiculous?

Oh, and if any of you know of stores in LA where I could actually see a variety of stones IRL (good quality stones) I think that might help out a lot.
Thanks!