Hi guys, first of all thanks for reading! And also thanks to all of you for the wonderful information this community provides, especially to novices like myself!
Well I've finally managed to save up to buy an engagement ring for the love of my life and I'd really like to end up with something that can show her just how brilliant I think she is!
I'm looking to produce a ring in the style of the verragio setting below with a couple of minor modifications (making it less complex not more!)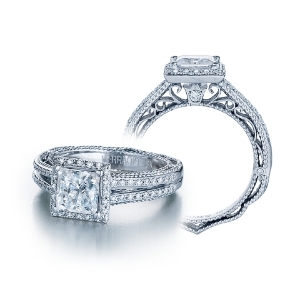 I've got a few quotes in the UK that are in the region of $3000-4000 for the setting; however seeing how much cheaper US prices are for diamonds, I turn to you guys for advice! From what I've gleaned it's always sensible to try and get the setting from the same people who do the diamond; is anyone familiar with any PS vendors who would consider making me a custom ring? If i can get some quotes then we can all have a better idea how much I've left for the centre stone!
Now on to the diamond!
I'd like the total carat to be 2+ (with a centre stone around 1.5-1.6ct with the side stones making up the remaining 0.4-0.5ct)
I'm looking for a square cut centre stone but not a conventional princess cut. We like the look of asschers but would ideally like something that is a bit more sparkly
and as such decided on perhaps a square radiant or square cushion cut stone? We also really like the princess of hearts, queen of hearts, quadex and lucere cuts but think the premium on them will push them out of my price range.
My total budget is around $13000-14000 (have had to factor in the ~25% tax i'll have to pay to get the ring to the UK!), and as such I'm really interested to see if anyone can help me find a nice stone!
The main information I've gained from these forums is that Cut is King! In layman's terms I would like an eye-clean, white diamond that sparkles!
Hopefully someone can help me, and even if you can't, thanks for taking the time to read the above