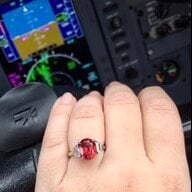 Joined

Jun 5, 2011
Messages

1,298
Many of you may have seen the very sad post from a few months back where I mentioned that I had lost one of my earrings from
BGD
.
BGD 3.41tcw studs
Once I lost the earrings they were replaced with new studs from
JA
which have been happily been in my ears and which I hope to never have to replace. The question remained what to do with the remaining stud. I briefly considered selling the stone. I was stopped by sentimental value, the earrings had been a purchase of a milestone in my career and I realized that I did not truly want to let the reminder go.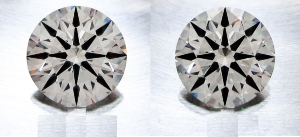 The good folks who are on the PS boards on a regular basis will have realized by now my extreme fondness for rings. I wear a 6.10ct sapphire with 1.5tcw trillion side stones on my left hand nearly daily.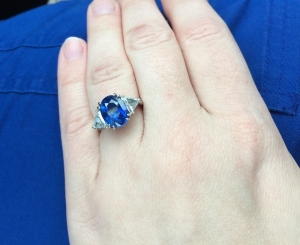 With football season having been so enjoyable this year I decided what I really needed was something with my school colors that was fabulous and simple enough to be worn in that spot. I decided to take my available stone and make it into a crimson and white ring. ***As a side note I hope that I am not the only one who was able to enjoy Alabama's opening against Wisconsin. Though I did feel bad for Wisconsin player Caputo who tried to line up in the Alabama backfield. I am even more excited about our upcoming game against MSU, and fingers crossed Clemson.

***
I choose to work with vendors that I have worked with before and whose quality was known to me. Marc Sarosi from
Africa Gems
is always super quick to respond and a true gentlemen. His promptness is coupled nicely with detailed and thoughtful responses and I trust him to make sure that the stone being sent out is one I will be happy with.
V from Sin City Treasure is a real doll. I have purchased a little yellow gold and diamond bangle from her and a few little things for a friend of mine. She is replies to enquires quickly and writes a little thank you note with each purchase. This is my first custom piece I have commissioned from Sin City Treasures. I have seen their bench's work before. A friend of mine who posts on pricescope as Virginia has a great custom e-ring. Having seen this ring in person I knew the quality and the detail her bench puts into things.
Marc from Africa Gems was really great about helping me choose the perfect rubies for my ring. I told him what I was looking for and the size of the center stone and he was kind enough to help me narrow it down to two pairs and then sent me videos of both. I told him I was struggling to decide which pair I wanted and he sent me a second set of videos to help me see them in a more natural lighting. This attention to detail and determination to get things right is why I keep going back to Marc again and again for colored stones.
Once I saw the rubies next to my diamond I went back and forth over the decision about a three stone vs a five stone. After much contemplation I decided was that the three stone, while lovely and classic came a little to close to looking like an engagement ring. (As a single girl I could not have that!) I decided to go with a simple five stone similar to a sapphire and diamond ring
BGD
made for me a few ears ago.
Two days after receiving my stones V pulled a few options to choose from for the perimeter diamond sidestones. The dreaded analysis paralysis struck again and so I let V and her bench make the final decision. My primary concern was that all five stones be visible when my fingers were pressed together. I do a lot of work with my fingers tight together around small tools and stones that large which are prong set can sometimes be quite uncomfortable between my fingers.
Insert pictures of five stones together loose.
So now for the things which y'all are truly interested in details about the ring!
Ring Manufacturer: Sin City Treasures (link)
Center Stone:
BGD
Blue 1.71 7.69x7.72 mm H/SI 1
Ruby Side Stones: Africa Gems 6mm each 2.11 tcw
Diamond Side Stones: Sin City Treasures 4.6mm G/SI1 .78tcw
Metal: Platinum
Ring Size: 6
Ring Design: Low Set Five Stone Trellis with a rounded comfort ring shank