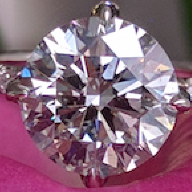 Joined

May 29, 2016
Messages

97
So, I received it this morning. I was trying to hide it from my girlfriend who had the day off, so I had to distract her, sign for it, then run upstairs to the bathroom to open the package. So, here I am looking at a
James Allen
box in the bathroom in my underwear... I closed the toilet to make sure I didn't literally flush 12,000 dollars down the drain. It was a real pretty sight!
Anyway, my first impression under halogen light in the bathroom was: spectacular! I then brought it out to the window, still fantastic! It had wonderful fire and brilliance and
damn
2.5ct is big!
I literally got 45 seconds to look at it before putting it away and hiding it and rushing off to work, but I'm really excited by my first impression. I didn't appreciate any cloudiness or milkiness, but I'll get a better sense tomorrow when I compare it against some other stones.
Here's to taking the risky road!
-fofolala