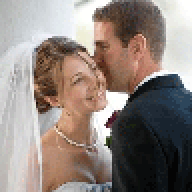 Joined

Mar 20, 2006
Messages

1,724
Just wanted to share that I had my first dress fitting yesterday... which was fun and mildly nerve-wracking all at the same time!!


The dress is a Melissa Sweet, the Nicollette, although I had them make some changes to the back... there were 2 big floppy bows, so we eliminated the top one and replaced it with a row of buttons. My mom and MOH loved the changes, but I am still a little nervous that I should have just kept it the way it was... ugh. Always finding something to obsess about.
The good news is, it fit perfectly... no alterations needed, other than the hem! They said that happens less than 1% of the time... I definitely got lucky! Although I was hoping to lose a few pounds by the wedding... so we'll see what happens with that.
The pictures aren't super-exciting, but I always love seeing all the different stages of planning/choosing/fitting... so I thought I'd attach a few!
Seamstress doing the bustle: