Now that I have your attention.. full story below
tl;dr: Wanted 2ctw tennis bracelet, settled for 3ctw 3-prong, received 3ctw and the fireworks from the sparkle lit up my face.
Full story:
So a few weeks ago, I decided it was time to treat DW to a nice gift. We're going to celebrate our 10 year anniversary next year and our oldest child will be 7 right around our 9 year anniversary this year. Other than the engagement ring and wedding band, I have not treated her to something substantial , bad me, I know
I thought about upgrading the engagement ring band which is currently a Vatche Royal Crown. She has mentioned she liked halo's and a pave setting so I started looking at various settings but soon came to realize the bling needed to be bigger since we were going to a big family wedding in a few months and obviously, she deserves bigger sooner rather than later.
So down the road I went looking for a tennis bracelet. She told me many years ago that she always wanted one but I couldn't afford something that would be substantial and I didn't want to settle on something from the mall. So here we are 9 years later and after reading many threads on PS about tennis bracelets, all signs pointed me to
IDJ
(especially after looking at prices from the other frequently mentioned vendors). Full disclosure: our engagement ring and diamond is from
WF
.
I sent an email to
IDJ
and asked about a PS quality (F/G SI) 6.5" 2ctw or 3ctw 14k bracelet and after a few back and forth pleasant emails with Shulamit, I asked to go ahead with the 2ctw 3 prong bracelet. A few hours later, she replied back if I wanted to reconsider the 3ctw for a small upgrade fee and through the readings I've done here, everyone always said if you can afford the bigger one, might as well go for it since it is not something you want to upgrade later on. Since the upgrade to 3ctw wasn't that much higher than 2ctw and still LESS than the 2ctw at the other vendors, I went ahead with the order.
A few weeks later, I opened up the package and WOW, the fireworks hit me in the face. This bracelet makes my eyes hurt. It is super sparkly and very well made. I couldn't have made a better choice. I will let the following speak for themselves but if you are in the market for a tennis bracelet, I'm going to sound like an echo with the others here but highly consider emailing
IDJ
.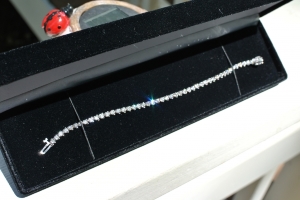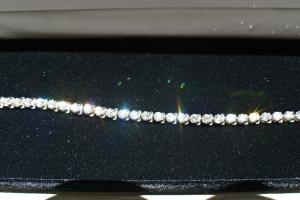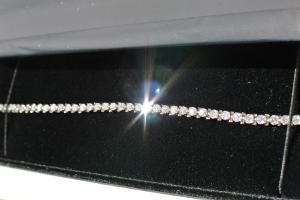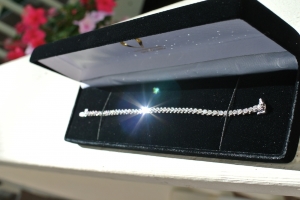 Video of the fireworks:
https://www.dropshots.com/pr0pel/date/2016-06-23/14:54:42