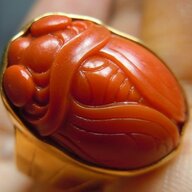 Joined

Dec 22, 2020
Messages

123
The fire color of fire agate comes from the layered deposition of minerals (iron oxide) in the agate. The proper thickness causes light interference and forms a colorful color. Fire agate is a rare species in agate, it should be the only agate priced in carats.
High-quality fire agate has the following characteristics: a variety of colors, and the color is rich, clear and bright. Colored in every direction (except for the bottom)
Fire agate mainly comes from Arizona and Mexico. The main difference between the two origins is that the American fire agate has a lighter body color than Mexico, and the fire color is richer, brighter, and clearer. The Mexican fire agate has a darker body color, generally with a brownish tint, and the fire color is not clear and rich enough.
This 11.88ct fire agate, from the Slaughter Mountains in Arizona, it is the surface material. This fire agate is the top quality fire agate.