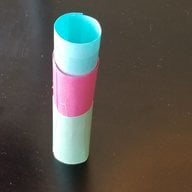 Joined

Nov 7, 2015
Messages

2,975
After I bought an engagement ring, I really wanted to keep it for myself. Well.... it is with my fiance.


Now, I have decided get myself a solitaire ring.


My budget is $1000 (USD). The centre stone is going to be
Carat: 0.25~0.40 / 4~4.6mm diameter (I don't want a stone that is significantly larger than the thickness of the setting)
Color: K or above (I would even consider M and N. Color does not matter as long as light performance is ideal)
Clarity: SI2 or above (near eye clean. may consider I1 as long as light performance is not affected)
Cut: Ideal cut (no compromise here. 55-56 table, 40.8/34.5 combo, etc.....)
Fluorescence: VSBF preferred (as long as not noticeably oily/milky/hazy)
Price: $350~$500
That's leave $650~$500 for the setting, and this is where I need help.
I have a small hand for a man. My ring finger is 7cm long and the ring size is 7.5. Anything thicker than 5mm looks hideous on me.
That's why went with a 4mm plain platinum for my wedding ring. Most men's diamond wedding rings are at least 6mm in thickness; plus I do not like jewelry designed for men in general (too bulky, heavy, and boxy looking)
I imagine having a 0.3 carat H&M with VSBF, slightly embedded on this wedding ring, giving out white light face up, yellowish tint from an angle, and bluish tone under direct sunlight. I would be happy.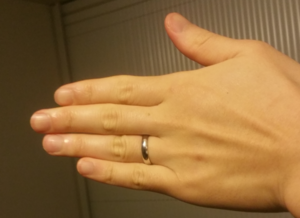 3~5mm would be ideal thickness.
This is similar to what I am looking for
http://www.miadonnadiamondblog.com/wp-content/uploads/2013/07/29/kelly-osbourne-engaged-gorgeous-custom-tiffany-bezel-setting/MiaDonna_Custom-Mens-Bezel-Set-Wedding-Ring_Yellow-Man-Made-Diamond.jpg
I am not a fan of a thick bezel
http://www.jamesallen.com/engagement-rings/tension/14k-white-gold-bezel-set-round-shaped-diamond-solitaire-ring-item-1704
I like rounded edge. No boxy looking like this one
http://demandware.edgesuite.net/aanc_prd/on/demandware.static/-/Sites-MHJ_Master/default/dwb89060ab/hi-res/11085195_1.jpg
Is this too girly?? I like the thickness. I like that the stone does not sit too high.
http://www.jamesallen.com/engagement-rings/solitaire/14k-white-gold-3.8mm-rounded-cathedral-solitaire-engagement-ring-item-1716
love

but cannot afford. no custom design.....
https://vimeo.com/9432287
I guess this is ok
http://www.tiffany.ca/jewelry/rings/atlas-closed-narrow-ring-GRP07521?fromGrid=1&search_params=p+1-n+10000-c+-1-s+11-r+-t+narrow%20ring-ni+1-x+-lr+-hr+-ri+-mi+-pp+600+2&search=1&origin=search&searchkeyword=narrow%20ring&trackpdp=search&fromcid=-1
I guess what I am looking for is something unisex..
Please please fine me a setting.