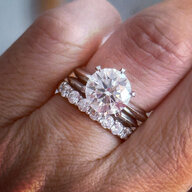 Joined

Jan 14, 2003
Messages

2,787
Hi everyone,
I finally received my ring from
Whiteflash
, and I have to say, I have never seen anything so sparkly and beautiful in my life!
As soon as I opened it, I knew that I had made the right decision when I decided to use
Whiteflash
and get an
ACA
H&A diamond. Even as I type this, I can''t help but to look over at my finger

and smile knowing that something so brilliant can actually be mine! My husband likes it, too, by the way!
I am equally impressed with the packaging that the ring was sent with. It''s better than anything I would have received at a local jewelry store!
This ring is a gift for our ten year wedding anniversary. When we first got married, we didn''t have much money so I never received an engagement ring. I eventually got one later on, but not the one I really wanted. Back then, I kept a journal and I wrote in it the things I wanted in 10 years. They were as follows, a house with three bedrooms and two bathrooms, two healthy kids, preferably a boy and a girl, two cars, a 4x4 and a sedan, my degree as a RN working in NICU, and a 1.5 carat F color VS1 ideal cut RB diamond from Tiffany''s.
Well, I managed to get everything on my list, except for the two kids, but I am going to start working on that in a few months. And I finally got the diamond ring that I have always wanted (except for the Tiffany name!)!
I don''t want to go into the whole story, but I started off picking a square radiant and was going to have it set with trapezoids on either side. Then, at the last moment, and after doing some more research, I called Denise at
Whiteflash
(who happened to be so patient with me and is such a fabulous person to deal with in general), and told her I wanted A Cut Above H&A diamond.
Of course I knew what size I wanted, but was not sure about the price, so after changing my mind from a 1.25 to a 1.31 and finally to a 1.51, I finally picked the ONE that would be mine!
Then it was on to the settings, I couldn''t decide between the Vatche Royal Crown or the X prong, but also wanted a three stone ring. I wound up with a D Vatche truffle ring in platinum with the following diamonds-
1.51 F VVS2 center stone HCA score of 0.7
and two 0.27 carat F VVS1 side stones on either side.
All the stones are A Cut Above H&A diamonds and each came with their own AGS certificate.
I have to thank Denise and Brian at
Whiteflash
for their wonderful service and advice. They were so patient with me and responded to me quickly and courteously.
I also have to thank Chris at AGA. He too was great to work with.
I don''t have pictures of the ring yet, but I do have a link to a thread that has a ring that looks exactly like mine, but all in platinum.
http://www.diamondtalk.com/forums/showthread.php?threadid=28766
Thank you everyone who answered my questions. I will probably still be around being that I still need to get insurance and I requested the GIA program catalog (I am thinking about enrolling in the Diamond Essentials Class, see what you guys have created!!!).