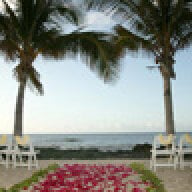 Joined

Nov 30, 2005
Messages

2,216
Well I finally tried on a dress, looked in the mirror, and thought: this is the One! It looks totally freaking gorgeous on me! One eensy-weensy nagging issue. It''s not exactly a stylistic match to a groom in shorts on a hawaiian beach.
How much do you think being out of sync matters?
I''m so pleased at how pretty I am in the dress and I love how special and bridal I feel in it. I feel like a fairytale princess! So I really want this to work and would like to banish the little worry that I''ll be standing next to him on the sand during our ceremony thinking that I look a bit silly.
(I did try on dresses that seemed more appropriate to the locale, but I just didn''t look as good. Although that might have been because all of them were smaller, so it was harder to tell)
Oh, the dress is an Alfred Angelo. I can''t find an exact copy of it on their website since the one I want is totally without beading or any embellishment beyond the color accents. It makes it look considerably less formal, but it''s still a satin dress. I''m thinking of getting it with ''lettuce'' color accents that will look great with the orchids.
The place wouldn''t let me take pics so I''m putting up pics from the designers site of the twin dress with all the embellishments.
Also if you
click this link
and then click the
picture
of dress #1797, it''ll feature the dress on that page and you can change the color of the accents. The one I want is the 7th in from the right. The back-up color is Golden which is 13 in from the right.