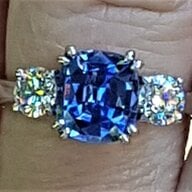 Joined

Apr 5, 2012
Messages

987
I had been looking out for my perfect blue sapphire to make a three stone right hand ring for years. There were so many criteria on my wish list for this sapphire, which is probably why it has taken so long to find "the one".

It had to be the perfect shade of blue with just a hint of violet, well enough saturated to have a striking colour, but not too intense, and certainly not too dark. But not wishy-washy either.
The colour needed to be just as beautiful in daylight as in incandescent light. It had to have great transparency and be at least eye clean. I wanted some kind of rectangular or cushion shape with a pleasing outline. It needed to have an interesting facet pattern with great symmetry, not too deep nor with too much bulge under the stone so as to maximise the face up size from the material. It needed to have plenty of brilliance and no obvious windowing. And finally, it needed to be very keenly priced, in spite of the fact that sapphire prices have been on the rise in recent years.

Finally, I found this beauty a few weeks ago: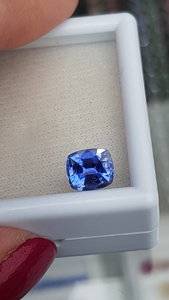 Miraculously it ticked all my boxes. It was uncertified and the dealer felt that it was likely to have been heat treated so he offered me a great price. Maybe because I had been searching for so long, it just seemed too good to be true.
I was hesitating, so to seal the deal the dealer offered to have the stone certified for no additional cost. My husband said for goodness sake snap it up, and offered to buy it for my birthday.
So we bought the stone and had the best surprise when the certificate came in identifying it as unheated!!!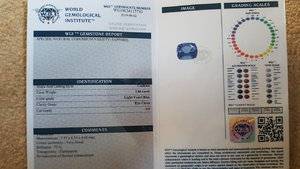 I decided to go with beautifully cut round brilliant diamond side stones, and in order to ensure they were top performers I bought certified diamonds from
Bluenile
so that I could choose diamonds with complimentary table and pavilion angles and all the other important things that we PS'ers obsess about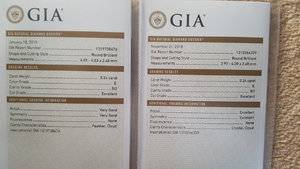 And finally - here is the finished ring. I love it so much!