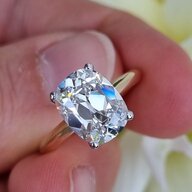 Joined

Jun 30, 2015
Messages

881
Hi!
As some of you may know I have had a bit of a journey finding a setting I love for my cushion. Now I can finally say that I have found it and I am (along with my husband who grew tired of this project one year ago!) extremely happy that I finally have it on my finger! I have so many of you to thank for all your help, knowledge and advice, I simply cant thank all of you. I especially want to thank mrs blop for encouraging me when I felt most hopeless and indecisive.
The diamond is a chunky cushion from
GOG
, 1.01 ct J VS1. I have thanked
GOG
in another thread, they are simply great.
The ring is custom made by a very reputable local jeweler in my town. Head in platinum, hand made using wire, and the band is in red gold, cast. The design is inspired by the classic six prong tiffany, but four split claws. No knife edge though, I preferred a rounded look instead.
I understand now why I got the advice from some of you that split claws can overwhelm a stone this size. I never found any other option that I liked though and I think this jeweler managed to make the prongs very fine. I think it looks ok. Maybe have to upgrade the stone in the future for a more perfect look for split claws!


The band is 2,5 mm wide. My previous ring was 1,9 mm and I felt that was too thin, but it takes some time getting used to this new width!
This will be a RHR and I wont be wearing a second ring next to it, but the photos are taken on my left hand because I simply cant take photos the other way around!
Now onto the pictures!