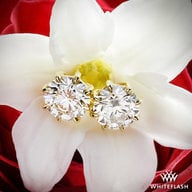 Joined

Apr 9, 2007
Messages

2,264
It's been a while since I visited or posted here (I found reading posts and seeing everyone's sparklies was making me too obsessed about getting MORE jewelry that I didn't need!).
I've wanted a tennis bracelet for as long as I can remember. At one point, I felt like they were out of style. Then I felt like I wouldn't wear one. But I never stopped thinking about how pretty they were. I knew I wanted something fairly dainty. I don't wear much jewelry (even less since I started working from home over a year ago), so I wanted it to be simple and not too expensive, as we're currently building a house and I didn't want to spend a fortune on it. I decided to buy a "starter bracelet" that I could upgrade if/when I wanted to.
I really wanted to go with
WF
, but the price was out of range for me. I found a NYC jeweler that had just opened their online store due to COVID (they've been in business for over 20 years) and they were running a promotion. I found one that I thought would be perfect, so I took a chance on it. It was 2.87ct, F/G, VS2/SI1. I loved it when I received it but it was way too long at 7". I sent it back to have it shortened and then decided to have them send me the same bracelet in 3.30ct, shortened to 6.5", since it was only a couple hundred dollars more. That one arrived and had a different clasp on it that I hated (I had not even thought to ask if the clasp was the same as the first one). I sent it back and the one they had in stock with the clasp I loved was a 3.48ct. I had them shorten that one to 6.5" and I love it! It's very sparkly and dainty. I've been wearing it nonstop, but am wondering if it's a good idea to wear it to sleep in. I also think it may still be a tad too long, but plan to wear it for a couple of weeks and if I decide to shorten it, I'll just take it to a local jeweler.
Thoughts on whether it's too long? And should I not sleep in it? Thanks for letting me share! These photos do not come close to showing how sparkly and pretty it is!