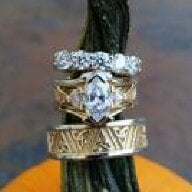 Joined

Feb 6, 2009
Messages

2,181
So I'm so excited to share with you guys! Many of you know my story (debacle) with the previous jeweler my wonderful fiance hired to custom design my celtic engagement ring. Long story short, we were shorted on the sidestones (finace got his own center stone), one was chipped, the ring was nothing like the drawing he OK'd and he wasn't happy with the end result, or the second time around of them trying to fix it. Basically it looked like a birds nest and we weren't happy with the customer service at Raru (Designet) either.
So fast forward - we find this awesome jeweler in Red Bank, NJ. Joel McFadden Designs. They custom do our wedding bands right down to the very minute details that my fiance drew for them! They came out SOOOOOOOO incredible that we decided they were going to re do the E-ring as well so its done right, my fiance would finally be happy with it, and it matches the set perfect. Plus we ordered new trillion side stones straight from Trillion in NY.
So the center is the same one as before. Just over a carat E VS1 and now the sidestones are 4mm ~.25 carat each D (yes D!!!) SI1, but completely eye clean!
WELL, we picked it up Sat and it BLEW MY MIND! Even better than my wildest dreams and I HAD to share with everyone here! You guys were so helpful and supportive with the ring that went wrong that I really really wanted to show you when it went right!
So w/o futher ado.... here is the CAD: