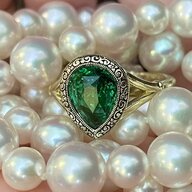 Joined

Mar 2, 2009
Messages

11,513
I absolutely love it, the only change I would have made would be to add a converting shank.
Thanks! It's a bit too big for me to want to wear as a ring. Is that what a converting shank is for?
If it continues to flip maybe you can the pin it to your shirt even though you are wearing it on a chain. I was thinking maybe you can slip on a thin weight on the back of the pin. Just thinking out loud..
Haha! I thought that too! But thought it might look too odd.