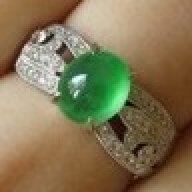 Joined

Dec 23, 2009
Messages

261
Guess I would just open this new post, as the original one has 2 other stones, which might be confusing.
After lying loose for a couple of years in my jewel box, my
ACA
H VS2 princess is finally going back to
WF
, replacing it will be a round brilliant. I will miss the elegance of the princess outline, but I missed the brilliance and fire in RB more
I have narrowed down my final options to these 2 stones, and I would love to hear your opinions otherwise I probably have to flip a coin
Here they are:
http://www.whiteflash.com/loose-diamonds/compare.aspx?idnos=3513226,3256272
=======================
1.09ct J VS2 6.61-6.63 mm
Depth 61.4
Table 55.3
CA 34.3
PA 40.7
star/lgf 50/75.0
my concern:
- I prefer longer lgf to shorter, but this one is 75%, not sure the visual difference
=======================
1.308ct K VS2 7.03x7.08 mm
Depth 61.2
Table 55.6
CA 34.8
PA 40.7
star/lgf 50/78
my concern:
- the variation in its measurement is slightly larger than what I usually see in super ideal cuts
- its
idealscope
show paler red under the table
=======================
K is $1123 more than the J
Below is the
whiteflash
statement about them:
- K is slightly warmer, it is only really visible from the side view
- both are completely eye clean, from as close as I can focus
- light performance, both technically and in person, very comparable
- both diamonds show edge to edge light return in the ASET &
Idealscope
, there is no light leakage in the center (but this doesn't explain the paler red I see in IS)
Which one would you prefer if you were in my shoes? Thank you very much!