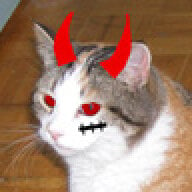 Joined

Nov 19, 2004
Messages

3,450
Hi everyone,

FIL has been feeling unwell for the past 2 days. We bought him to the emergency room late last night, and early this morning he was transferred into intensive care. I don''t have all of the details, as I wasn''t there. I don''t even know why he was transferred to the intensive care, his wife has already refused all intubation/reanimation because of his condition (terminal leukemia).

When he got there, he had a moment where he said he wasn''t going to be leaving the hospital. My fiance doesn''t seem to think he will either. I don''t know what I am asking for. Not dust, but prayers. FIL is not ready to die, but the suffering for the past two days was beyond what we expected.

Perhaps for the transition to be as easy as possible. And that whatever happens he doesn''t suffer.